2460 Fairmount Blvd Unit B
Cleveland Heights, OH 44106
Phone: 216-231-5783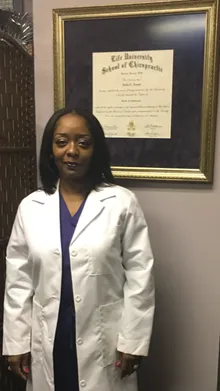 Dr. Emily Arnold-Wheat is a native of Cleveland, Ohio. She earned her Bachelor of Science degree from Wilberforce University, as well as a Master of Science degree from Clarion University of Pennsylvania. After working as a research technologist for 1 year with Energizer Battery, she was compelled to pursue her dream of becoming a physician.

Dr. Arnold-Wheat obtained her Doctor of Chiropractic degree from Life University in Marietta, Georgia in June 2000.

Dr. Emily Arnold-Wheat is passionate about the work she does as a Doctor of Chiropractic Care. She is committed to serving God through serving others. She feels it is her gift to serve as a healing vessel to hurting people.

It is her belief that chiropractic care is based upon the premise that the human body is capable of achieving and maintaining health and vitality through its own natural innate abilities, provided it is balanced with the following essential factors; proper nutrition, sufficient water, adequate rest and relaxation, exercise, clean air and an most above all, an interference-free spine and nervous system. Therefore it is her goal to eventually incorporate all of these factors into a total wellness center.

Dr. Arnold-Wheat's business goals reflect the idea that the chiropractic and wellness approach typifies a changing attitude toward wholistic health care in the United States.